Offices already know the importance of a well built server. Your server houses all your business data and without it, your business loses productivity and revenue. Completely custom computers, servers and home theater computers that use only the finest computer components are the only answer. Can't find a server to match your needs? Jaime builds custom computers and servers with any version of Windows or Linux. After he builds your server, he will then set it up with your network of computers.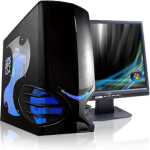 For the last 15 years, Jaime has dealt with every brand of computer component. He knows what works best for any given situation. Whether you need a small business server or you want to host and share files for your entire household, a custom server by The Cyber Fusion, Inc is your answer.
Are you into high end computer gaming? Call today for a quote on a custom gaming computer that uses only the fastest computer components. Don't worry about your off the shelf machine dying during a LAN party. Your gaming computer will be built to last.
.
Small Business Server – Database Server – File Server – Custom Server
.
2013 The Cyber Fusion