Jaime is New Jersey's top computer repair service provider. Does your computer have a virus you simply cannot remove? He has heard all of the horror stories of people that take their computer to a computer repair shop and learn their hard drive has been completely erased. All of their files are gone in an effort to save the repair shop time and money.
This does not have to be the case. Computer viruses can be removed without the loss of your files. It just takes experience and patience and luckily Jaime has them both.
Jaime has dealt with all types of computer viruse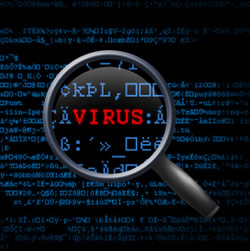 s including trojans, malware, adware and worms. He has yet to fail in removing a computer virus, and if he cannot remove it, you simply don't pay. That is how confident he is in his computer virus removal service. Don't worry about losing your data to another computer virus, spyware or malware… and best of all, don't worry about being without your computer for days or even weeks compared to other computer repair shops.
.
Computer virus removal is available on-site only at a rate of $85.00 / hr. For more information please contact Jaime.
.
Computer Virus Removal – Malware Removal – Adware Removal – Trojan Horse Removal – Worm Removal
.
2013 The Cyber Fusion