Difficulty: Easy
Many of my clients have asked me what they can do to keep their computer working like new for a long time and for free. Like all mechanical items, and yes, a computer is a mechanical item; you must maintain the parts inside the machine. Something that can become cluttered in a short amount of time is the computer's hard drive. Proper maintenance of the computer's hard drive is crucial for keeping that new computer feel. Without proper maintenance, your computer will feel slow and sluggish in no time.
Why you need to defragment your computer's hard drive?
Imagine your computer's hard drive to be a file cabinet with hundreds of folders. When you add files to your own filling cabinet, you place them in the proper location for easy access. However, this takes more time than if you were to simply pile up the files one in front of the other.

When you add files to your computer it does the latter. In order to save time, the computer's operating system will place the file(s) in the most convenient location at the moment you are saving the file. Add up the numerous file downloads over time and your computer's hard drive is looking like a cluttered and disorganized file cabinet.
In order to organize the data on your computer's hard drive you must run a defragmenting program. You can use the program already built into your operating system but if you want something with more options such as automatic shut down or scheduling ability you should use Defraggler.
Defraggler is a free program offered by Piriform that you can use to defragment your computer's hard drive. First, you must download the program file by visiting my recommended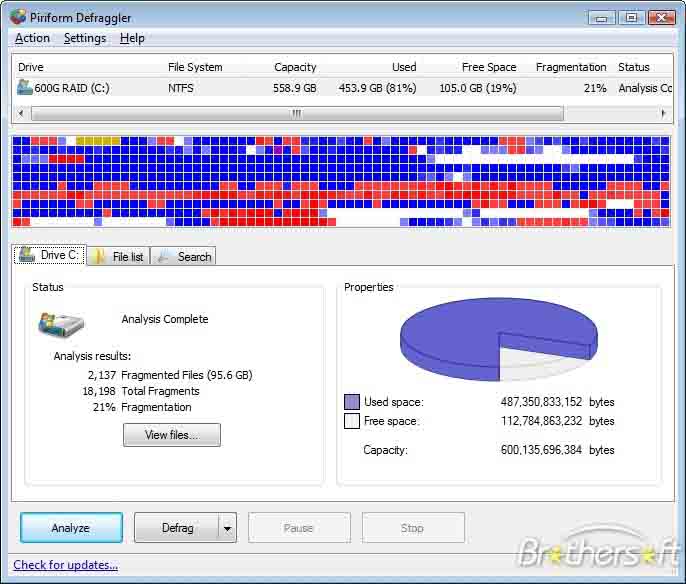 software page and clicking on the download link…Recommended Software
After you have downloaded the program file, locate the installation file and double click on the file to begin the installation. The installation is pretty straight forward and similar to the installation of CCleaner. For more information on the installation process, visit my CCleaner DIY and follow the installation instructions…CCleaner DIY
Once you have installed Defraggler onto your computer it is a good idea to run CCleaner in order to clean out any temporary files and garbage that have accumulated on your computer. Once CCleaner has finished cleaning your computer, you can now run Defraggler and begin defragmenting your hard drive.
Note: Since the defragmentation process takes a lot of computer resources it is a good idea to exit out of all your running programs. You should also make sure your data is backed up properly. Rarely do you hear of a program losing all your data but if your hard drive is already in bad shape, you could run the risk of permanently damaging the hard disk.
With Defraggler open, you will see the following screen…simply click on "Defrag" and the process will begin. The defragmenting process takes anywhere from a few minutes to a few hours depending on how long it has been since the last defragmenting process.
Some Defraggler options:
1.) If you leave your computer on 24 hours a day, you can have Defraggler schedule to run late at night so you will have that fresh computer feel every day. This is especially useful if you are constantly dealing with large files. With Defraggler open, click on the "Settings" tab at the top of the program screen and then click on "Schedule". Choose the hard drive volume you want to have defragmented on a regular basis and then set the schedule. (You can choose to have it defragmented every day / night at a specific time.)
2.) If you want to have the computer automatically shut down after the process is complete, simply click on "Settings" and then check "Shutdown after defrag". Once checked, click "Defrag" to begin the process. Once it is done, Defraggler will automatically shut down your computer for you. Make sure you have exited all programs before you begin this process.
Support Our Blog by Visiting Our Sponsors
Tags: defraggler,defragment,hard,drive,computer,maintenance,data,file,installation
Was this article helpful? Share it with your Facebook friends. Got anything to add? Leave a reply!
Copyright 2011 The Cyber Fusion © New Jersey