Creating a PDF file from a Microsoft Office document has never been easier. Thanks to the folks at Microsoft, users of Microsoft Office 2007 can download a free plugin that allows one to create a PDF file from almost any Microsoft Office format. The plugin works with the following Office formats…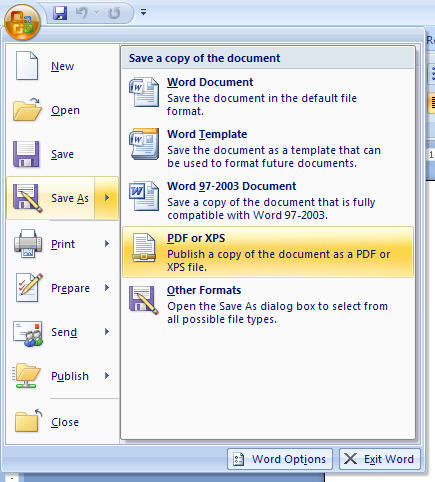 Microsoft Office Access 2007
Microsoft Office Excel 2007
Microsoft Office InfoPath 2007
Microsoft Office OneNote 2007
Microsoft Office PowerPoint 2007
Microsoft Office Publisher 2007
Microsoft Office Visio 2007
Microsoft Office Word 2007
In order to use the plugin, click the link below and download the Save As PDF plugin.
Microsoft Office 2007 Save as PDF
Once the download has finished, double click the file in order to install the plugin. When using any one of the supported Office programs simply click on the Office logo in the top left and select "save as" and then "pdf or xps". Choose your settings and where to save the PDF document.
Support Our Blog by Visiting Our Sponsors
Tags: save,as,pdf,microsoft,office,2007,free,plugin
Was this article helpful? Share it with your Facebook friends. Have any other ideas? Leave a reply!
Copyright 2011 The Cyber Fusion © New Jersey