Wireless N vs Wireless AC…when should you upgrade your wireless network from wireless N to the new wireless AC standard? To the technologically savvy end user, this discussion is moot. Techies know very well of the performance increase seen with the new wireless AC standard. However, how does one demonstrate the limitations of the, dare I say, "old" wireless N standard to the everyday end user? Sometimes a simple demonstration is all that is needed.
A client of mine had recently upgraded the internet connection in his office to accommodate the recent increase in internet connected devices. With his business moving more towards cloud based solutions as well as rampant smart phone use inside the office, it only made sense to have a faster, more reliable internet connection. The upgrade presented the perfect opportunity to demonstrate the limitations of the old wireless N network.
The new internet connection boasted download speeds of up to 100 Mbps with upload speeds of up to 35 Mbps. With internet speeds like this, it was time to upgrade the office's wireless N access point to a new wireless AC access point. Prior to the wireless network upgrade, I made sure to measure the speed of the internet connection (wireless) using Speedtest.net.
Network Hardware
Router: Ubiquiti Edge Router Lite
Switch: Netgear Prosafe 16-Port Gigabit Ethernet Switch
Access Point: Unifi AP LR
Test Computer Hardware
Computer: Dell Inspiron (Intel i5 with 8 GB RAM and 256 GB Crucial M550 SSD)
Internal Wireless Card: Intel Dual Band Wireless  AC 7260
.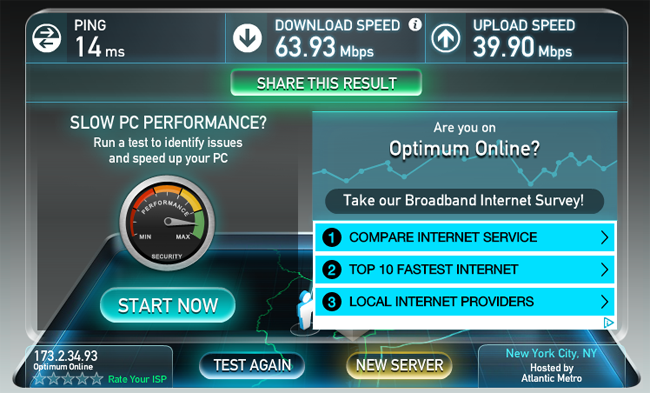 .
Before the wireless network upgrade, the office had a wireless download speed of about 64 Mbps with an upload of about 40 Mbps. The advertised internet speed was 100Mbps/35Mbps. A wireless network upgrade was necessary…but just how much of a bottleneck was their old wireless N network? I quickly changed out their old access point to a new Ubiquiti Unifi AC access point. The results were phenomenal.
.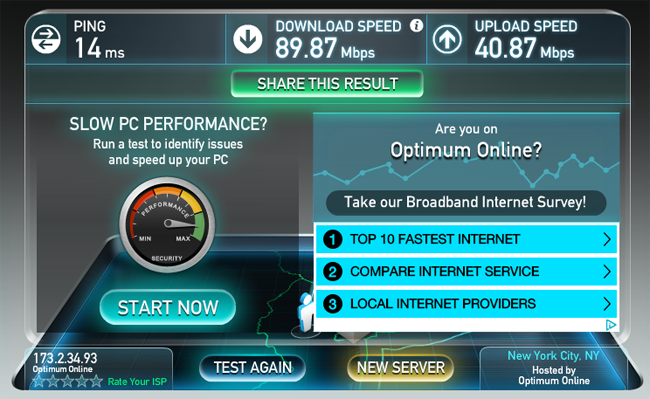 .
After the wireless network upgrade, the office now had a wireless download speed of nearly 90 Mbps! While the upload speed saw minimal increase, the wireless download speed increased by roughly 40%.
So what does this mean for everyday office internet use? With a 40% increase in wireless download speeds, more wireless devices can be connected to the internet and enjoy faster, more efficient connections when compared to the previous wireless N connection. In households with numerous wireless devices, the increased bandwidth found in a wireless AC network teamed with a faster broadband internet connection will allow more users to be online without interruption.
Got questions? The Cyber Fusion, Inc. has answers. Leave a reply!
Support Our Blog by Visiting Our Sponsors